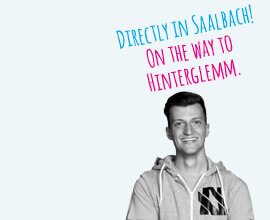 GREAT VALUE SKI HIRE AT SAALBACH - HINTERGLEMM
MIETSKI COM
Wieslweg 477, 5753 Saalbach
Tel.: +43 7213 21200 150
kundenservice@mietski.com
find us at:
Next to the M-Preis Supermarket
Saturday 08:30-12:30 and 13:30-18:00
Sunday - Thursday 09:00-11:30 and 15:00-18:00
Friday 09:00-11:30 and 14:00-18:00
Also open on bank holidays!
Car: direkt im Ort
Ski-bus: Haltestelle - Saalbach Seigweg (Linie: 965 od. 680)
Taxi: Taxi Rainer, +43 6541 6261
Where can you get the best prices for ski hire in Saalbach-Hinterglemm? At Mietski.com - Ski hire Saalbach-Hinterglemm.
It is possible to get good prices on ski hire in Saalbach - Hinterglemm. At MIETSKI - Ski hire Saalbach - Hinterglemm - you can get great savings. How? Really easy: The earlier you book, the better the price with a bigger selection of equipment. The ski hire shop is in Saalbach on the main road towards Hinterglemm. If you want to save money on your ski hire in Saalbach - Hinterglemm, then you are at the right place. Low prices and 100% new equipment each season. MIETSKI - The Early Bird ski hire in Saalbach - Hinterglemm.
What's happening in Saalbach-Hinterglemm?
Party
Events
in Saalbach-Hinterglemm
Party people can find all the best parties and top events from when the season opens to the final closing parties.
Hotels
The best
hotels in Saalbach-Hinterglemm
Where are the nicest rooms, cosiest accommodation and best hotels in Saalbach-Hinterglemm?
Ski area
The best pistes
and the best places
The reds? The blacks? - or maybe even the blues? Which pistes should we do. Get your piste map and insider tips here.
Apres Ski
The best bars and
coolest clubs
Do you know the best Apres ski bars and hottest clubs in Saalbach-Hinterglemm? Here are our best tips for party loving people.
Ski schools
The best ski
and snowboard instructors
The best ski schools in Saalbach-Hinterglemm for beginners and for anyone wanting to improve their technique.
Ski pass
Piste plans
and ski pass prices
How much does a ski pass cost? Find the ski pass prices here and check the prices for the ski area Saalbach-Hinterglemm.